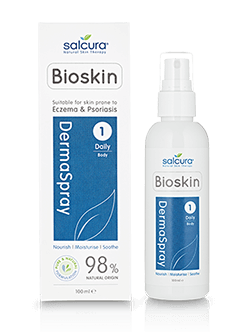 DermaSpray 'Intensive'
For years now our Bioskin Dermaspray Intensive has been a saviour to anyone with severely dry and itch skin. The fine liquid of the Spray sinks deep into the skin feeding it all it needs to become stronger and healthier.
PRODUCT DESCRIPTION
Bioskin DermaSpray 'Intensive' was originally developed over 10 years ago with the belief that the skin can overcome any problems when being given the right nutrients and care.
Our Spray contains a multitude of natural oils that all aid the skin in becoming stronger and healthier. Think of Sea Buckthorn, rich in Omega's, Lavender to soothe the skin and Safflower as an anti-oxidant.
How does the Spray work?
The fine liquid of the Spray sinks into skin and gets absorbed much deeper than any thick cream ever could. As the skin rejuvenates itself every 28 days, we are able to reach the newly forming skin cells much earlier in their life cycle, making them much stronger when they reach the surface. Your skin will be better capable to fend of any symptoms associated with itchy and severely dry skin.
Our Dermaspray is also suitable for those who may be prone to eczema, psoriasis, dermatitis, rosacea.
Most people will experience an instant cooling sensation with the itching being reduced almost instantly. Significant improvement of the health of the skin might take a bit longer as in some cases the skin needs time to detox and rebuild its strength. Every person is unique and every skin is different!