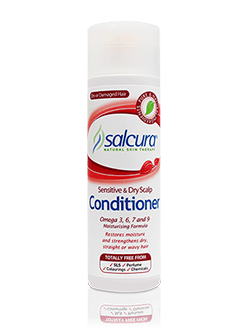 Omega Rich Conditioner
Ideal for dry, sensitive scalps, this omega-rich conditioner nourishes the hair and scalp, leaving your hair shiny and manageable. Contains no SLS or harsh chemicals.
PRODUCT DESCRIPTION
Our Omega Rich Conditioner has been a firm favourite for those with sensitive scalp who are looking to avoid harsh, scalp-upsetting chemicals.
Salcura Conditioner is packed with Omega's 3,5,7 & 9 thanks to the Sea Buckthorn berry. It also contains other vital skin-essential nutrients from ingredients like Starflower, Sunflower and Rosemary to help soothe, moisturise and protect the scalp. Also suitable for those who may be prone to eczema, psoriasis and dermatitis.
Our products do not contain Steroids, Paraffin, Sodium Laureth Sulfate and Sodium Laurel Sulfate (SLES & SLS), Parabens, Petroleum Jelly, Diethanolamine (DEA), Phthalates or Synthetic Fragrances.
An ideal complement to Salcura Shampoo, as well as dealing with a problem scalp, the Conditioner leaves hair feeling replenished with its fullness restored.
For extra nourishment for particularly dry or unbalanced skin, you might like to try DermaSpray Intensive. Part your hair into sections and spray directly onto the scalp.